Software Update: Electrical Bid Manager v10 Build 06.21.16 Released!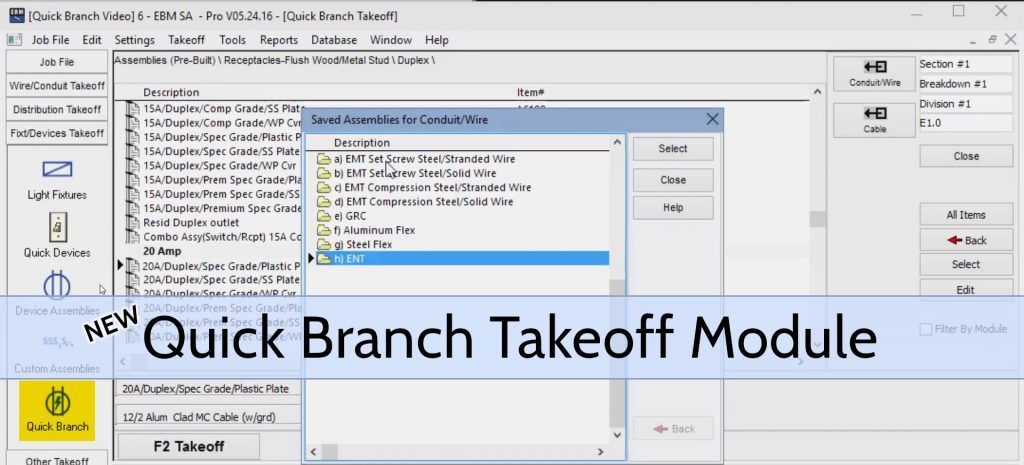 In June 2016, we released an update for our electrical estimating software that added a new takeoff module called Quick Branch. This new takeoff module in Electrical Bid Manager™ eliminates a takeoff step and is a real time saver.
All Electrical Bid Manager customers that are current on the Extended Service Plan received this update.
Added Features - Build 06.21.16
QuickBranch Takeoff - Allows quick selection and takeoff of device assemblies combined with conduit/wire, or cable runs of any length from your Saved Assemblies in Branch Circuits and Cable modules. View a video of this new feature.
New MC Luminary Cable - Lighting and low voltage circuits in one cable. Pricing updated with EPIC Pricing.
New program "Themes" gives EBM a new look! Find this setting in Program Settings screen on the Appearance tab.

Ability to take off empty conduit with pull line in one step with conduit take-off in Site and Feeders.

New database items and updated item UPCs and descriptions.

Various modifications to PlanSwift integration for improved functionality.

Clear button to remove unwanted items from the Import Spreadsheet. (PlanSwift link only)
Fixed Features - Build 06.21.16
Advanced Substitution bugs; Converting to Cable would use the incorrect Saved Assembly. After converting to Cable, the resultant entries in the audit trail could not be edited.
Digitizing item on a different page would return to the spreadsheet instead of item takeoff (PlanSwift link only).
Feeders and Site From/To taken off from OST not showing in audit trail.
"Edit to Source" Custom Assemblies not recalling "Additional Items".
You can learn more about the latest additions to Electrical Bid Manager by viewing the Changelog here.
View Electrical Bid Manager Changelog
---
Feature Highlight: Quick Branch Takeoff
We added the Quick Branch takeoff module after looking for ways to improve how our users create bids in Electrical Bid Manager. This new electrical takeoff module cuts out steps that are repeated multiple times during a bid.