2016 Year in Review at Vision InfoSoft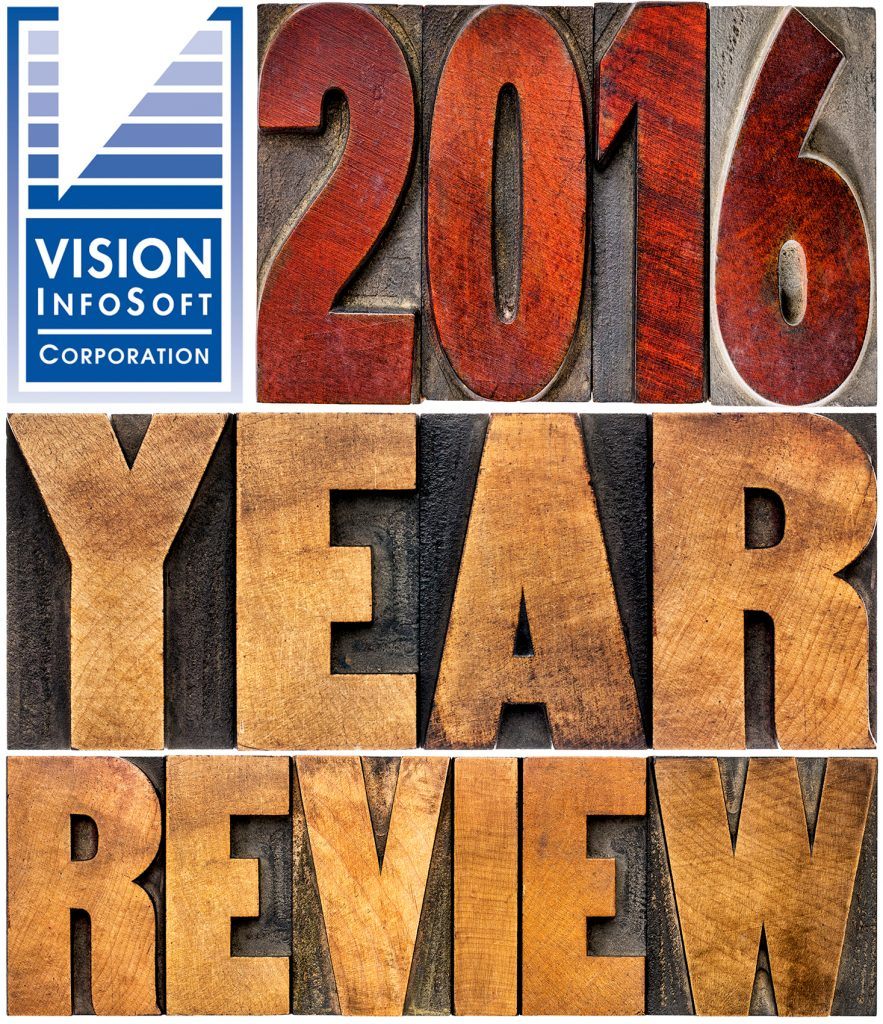 As another year comes to a close, what better time to review our accomplishments, challenges, and finalize plans for 2017? Here are a few of Vision InfoSoft's noteworthy events and stats from 2016.
QuickBranch Takeoff Module in Electrical Bid Manager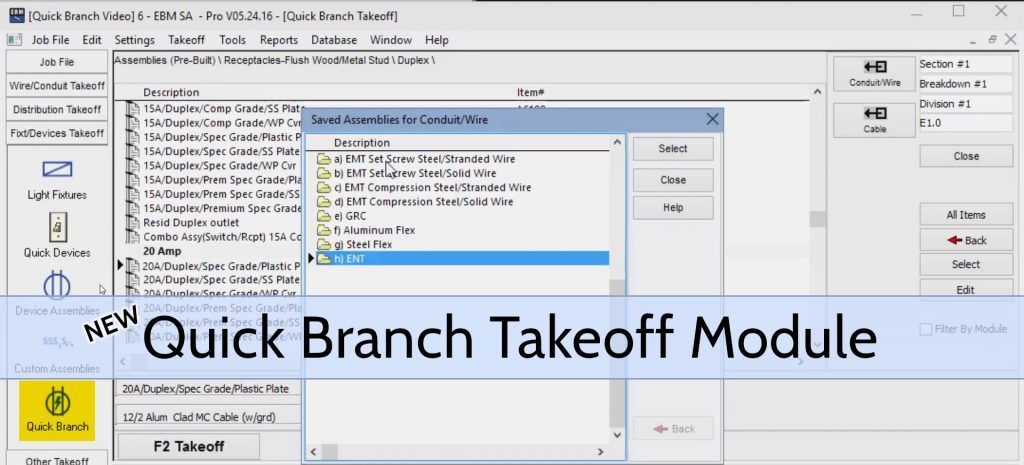 In June 2016, we released a new takeoff module that eliminates a takeoff step. The new Quick Branch takeoff module allows quick selection and takeoff of device assemblies combined with conduit/wire, or cable runs of any length from your Saved Assemblies in Branch Circuits and Cable modules.
We combined this new time-saving feature with a user interface facelift and the addition of MC Luminary Cable. Our June Electrical Bid Manager update was quite the crowd pleaser.
Watch this short video to see Quick Branch in action.
PlanSwift Partnership and Integration Enhancements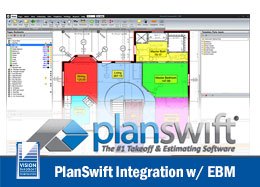 We focused a lot of energy on ensuring our integration with PlanSwift would bring the best digital plan takeoff tools to our Electrical Bid Manager customers. While we initially launched our PlanSwift integration in late 2015, the year of 2016 is when it took off and we were able to enhance it and get it out to our customers.
Every takeoff module in Electrical Bid Manager takes count and measurements from PlanSwift. Simply bring up a takeoff module, click the PlanSwift count button, and you are off to the races.  This on-the-fly takeoff eliminates several steps for every takeoff.
We are adding over 60 design/build electrical symbols in four different styles in the next month. The electrical symbols allow for necessary additions and edits to your digital plans. You can design from scratch, make changes to current plans, and add in missing electrical plans where needed.
See the digital plan takeoff in action.
T&M Mobile App Development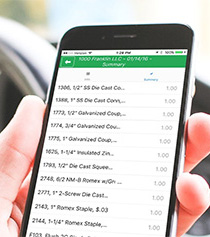 Going mobile and giving electrical contractors the tools their field service employees need has turned out to be more time consuming than originally estimate. As many of you have seen, the app has been through a few rounds of updates and feature additions we've cultivated with our customers. We only wish we could get them out to you sooner! We're working on that too.
As we close out 2016, we have customers beta testing our new "Jobs" feature. You will soon be able to send specific jobs to individuals or a group of mobile users from your desktop software. We have a couple more highly requested features on the table to follow.
Estimating and Software Training
Vision's primary training goal in 2016 was to increase the number of companies we train across the U.S. We easily exceeded that goal. Brian Hoffelder, our software training guru, travels from coast-to-coast and several places in between.
We trained companies in 13 different cities across the U.S.  Eighty different companies with over 300 students got quality time with Brian Hoffelder.
Our training team completed more 1-on-1 internet training and training webinars in 2016 than in 2015. Our customers wanted to improve their estimating processes and filled the seats every month.
Learn about our training here.
EPIC Pricing Updates
Many electrical contractors do not fully understand the amount of work we put into maintaining our electrical item database that powers EPIC Pricing. EPIC is an electrical item database with nearly 2 million electrical items. These items include a description, trade price, target price (a benchmark price for what contractors actually pay) and many link to the manufacturers' actual catalog page. In 2016, our dedicated electrical database editor team committed over 1,400,000 unique price changes and added over 32,000 new electrical items. We also saw a lot of end of year updates and changes submitted to us by manufacturers.
Learn more about EPIC pricing here.
New Website Launch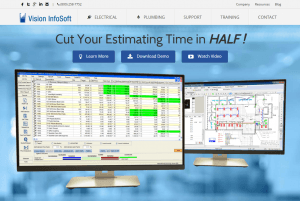 Back in February 2016, we launched our new website. The goal was to make it easier for our customers to find what they needed and make it mobile friendly.
We chose the WordPress framework and focused on simplifying our message while adding more videos. We wanted people to quickly see how we solve the daily problems they face as an electrical business owner, an estimator, a service billing clerk, or a pricing manager.
Every week we add new content aimed to teach, help, and enlighten our website visitors. Sure, we want to sell our software. But, we believe the best route is to offer the services that help our customers succeed.  Check out Customer Spotlights for a few great examples.
NECA and IEC Tradeshows

Tradeshow season found us in Boston, MA and San Antonio, TX. We hosted training classes before and after the tradeshow and had sold out our classes.
Tradeshows are always a great opportunity for our customers to come by and see what we've done since last year. There is also always a steady flow of apprentices, journeyman, estimators and business owners that are curious about what new technology there is in their field. If you haven't been to one of the big national tradeshows, we recommend you make a point to get to one. They offer continued education classes, fresh inspiration for your career or business, beautiful city tours, and you get to come by and say hi to Vision InfoSoft!
Fun Fact Stats of 2016
Added 100's of new customers
We hosted training classes in 14 different locations across the nation. Twice in Las Vegas.
Over 300 estimators trained with Brian Hoffelder in small classroom environments across the nation.
Hosted over 100 training webinars with over 1,000 customer attendees.
Our Support Department answered over 7,600 individual customer questions.
EPIC Pricing electrical item database had over 1,400,000 unique price changes and over 32,000 new electrical items added.
In Memoriam: Scott Ridolph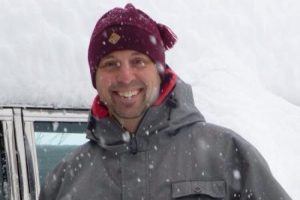 This year, we lost a tremendously loved and valued long-term employee and friend. Scott Ridolph was a top regional sales manager and worked at Vision InfoSoft for 17 years.
Scott's personality, humor, and determination will live on in our thoughts and the stories we share going forward. He helped thousands of electrical contractors build their successful business through his software consultations and his understanding of how our services best fit each of his customers. Thank you for everything Scott. You will forever be part of our family.
Coming in 2017
We can't wait to start the new year. We have new software and features coming that we've been pushing to release. Here are a few additional projects we are working on releasing soon.
Integrations

Passing data between Vision software and other business software was a big development conversation in 2016. We plan to have a few announcements coming in 2017 as we work to add truly useful software integrations for our customers.

Design/Build tools added to EBM/PlanSwift Integration

As mentioned earlier, we are adding Design/Build tools into our Electrical Bid Manager and PlanSwift. We plan to start slow and let our customers guide the further development.

Mobile Apps

Our T&M mobile app is a continued focus, and we look forward to adding more customer-driven features. Meanwhile, we are always considering other solutions to compliment our existing software.

New customer onboarding process

Helping our new customers succeed and maximize their ROI with our software will be key in 2017. We plan to work closer with our customers and offer more resources that meet their schedules and needs.

Anything else?

Of course! 2017 will be a busy year for Vision InfoSoft and our customers. We are very optimistic for the coming year in the construction industry. 2016 found many of our customers too busy with all their new jobs to focus on improving their software and back office. While we'd love to have more great conversations, training, and feedback, we can't help but feel a little proud that our customers are so busy.
Here's to 2017 being a great year for your business. Give us a ring if you need any help making it great. (800)258-7752