Electrical Estimating Software is Passed Down from Generation to Generation
Bret's Electric has won numerous 'Commercial Project of the Year' awards from the Independent Electrical Contractors (IEC) association for various projects. IEC has also awarded Justin Martin of Bret's Electric the title of 'Project Manager of the Year' twice - in 2010 and 2013.
A glimpse behind the scenes would reveal that Electrical Bid Manager (EBM) has played a role in all of these award-winning projects and many more. "Since I use EBM on every estimate I produce, I would say that it is an essential part of my success in the award of any and all of the projects we get," says Justin Martin, a 2nd generation user of EBM.
Justin's father, Bret Martin, founded Bret's Electric in 1993. Three years later, after researching the different electrical estimating software programs that were available, he purchased EBM. Today, more than two decades later, EBM is still being used daily by Justin and Bret. Moreover, they upgraded their software and they now own two licenses of the EBM Plus Network version. Bret's Electric, based in Frederick CO, provides electrical and fire alarm system installations. The company specializes in auto dealerships, parking garages, schools, senior living facilities, hospitals, medical office buildings, imaging centers, ambulatory surgical centers, nurse call centers, operating rooms, generators, restaurants, retail centers, financial institutions, multi-family complexes, tenant finishes and golf clubhouses.
"I do most of the hard-bid estimates, so entering the new projects in the same systematic way creates consistency and reliability of the estimate," Justin states. "We are able to create many custom assemblies to make further shortcuts that help expedite data entry. Some in-house shortcuts that we created have reduced data entry from nearly 40 different items to one simple click."
Two Generations of Electrical Estimators
Justin learned how to use EBM from his father. "Bret taught me the program many years ago and showed me several shortcuts and assemblies that he created to make 'life in estimating' easier," says Justin. "We work off of a common database, so I'm able to use his shortcuts and he is able to use mine. We are able to learn and work off each other very well."
In November 2005, Bret's Electric purchased EPIC Pricing as an add-on to EBM and currently has EPIC Quarterly. The EPIC pricing service makes it easy to keep estimating and electrical service billing software prices current. EPIC has over 2 million items with both trade and target electrical prices and includes accurate item descriptions. Over 250 manufacturer catalogs are available with EPIC.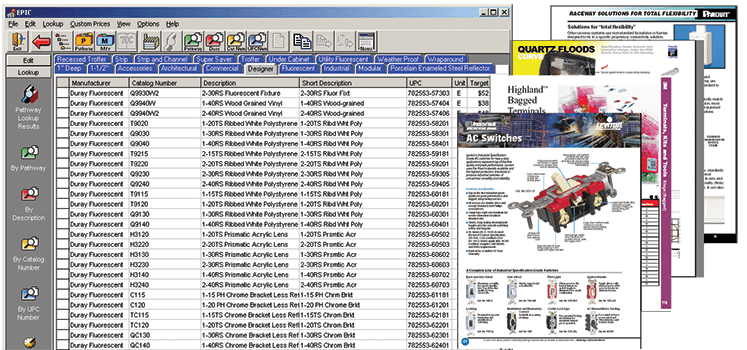 "Having up-to-date pricing on items is critical for accurate estimates," Justin declares. "Without EPIC, it is possible that an item in the material list may be outdated, which will either cost you the bid or cost much more out of pocket after the project is awarded. EPIC's current commodity pricing is very helpful in keeping our pricing competitive in the current market."
In October 2012, Bret's Electric purchased On-Screen Takeoff. This add-on software to EBM enables all the benefits of using electronic plans. Even though seasoned contractors are reasonably fast at doing manual takeoffs, this electrical takeoff program can shave several hours off the process.

"The trend to paperless technology pushed us to On-Screen Takeoff," says Justin. "I like On-Screen Takeoff for the color-coded estimate and the continuity of the estimate to the field. It is also great to have the takeoff go directly into the estimate. And, the fixture recognition saves a lot of time."
Justin explains that he likes to use the print details from the job totals to create his project budgets for labor and material, and further the Schedule of Value's for the company's billing. He states that it keeps continuity from the project's birth to completion.
Besides the increased accuracy and productivity that he derives from On-Screen Takeoff, Justin also likes not having to lug around paper drawings and plans. Plus, paperless takeoff saves hundreds - or even thousands - of dollars in plan printing costs that are no longer necessary.
"The ability to take your estimate on the road without having to haul a bunch of rolled-up drawings is huge," Justin points out. "I do a lot of work from home. So simply opening up the laptop and being able to pick-up where I left off at the office - without transforming the kitchen table into a plan table - is perfect. The up-to-date data that EPIC offers keeps you relative in today's market. The more I use EBM, the better I get at it and the better the program gets for me."
According to Justin, EBM is very easy to use. He also emphasizes that the more an electrical estimator uses it, the better they are at it and the more customized the assemblies can become to increase their productivity. "
Jim Hertel at Vision InfoSoft showed me a new feature today that will really save a bunch of time," says Justin. "This is a piece where I made several shortcut assemblies previously, but I think the button Jim showed me will be much easier to use. Vision InfoSoft's training and support are very helpful, as they always seem to have something new for the program, or at least something new to me that I did not use previously."
Justin says he uses EBM daily and he loves it. "I would absolutely recommend it to anyone," he states. "I'm definitely a fan of the program."